Join me on the Friday Fitness Blog Hop! Make sure you come back here for some delicious fall recipes!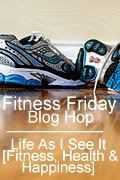 When I'm trying to lean out and really see the results of my strength training workouts I make two primary changes to my diet. I (1) eliminate added sugar and (2) reduce my consumption of starchy carbs (note, I still eat lots of carbohydrates in the form of fruits and veggies; see below).
Going sugar-less doesn't bother me nearly as much as cutting back on bread, oats, rice, cereal, pasta and sweet potatoes. I don't buy many products that have added sugar and as long as there's no chocolate (or chocolate chip cookies!) in the pantry, I really don't miss sweet. It's the starchy carbs that are so difficult to avoid. They act as comfort foods when the temperatures drop and the days get shorter. Not so easy to just leave them on the shelf at the grocery store; they are also the mainstay of my children's diets.
Like most of you, I don't have time to cook one meal for myself (and my husband; he's easy to please!) and another for my children. After-school is chaos at the best of times, and easy, one-dish meals are usually the only thing I have enough time to make.
For the last few years, I just ate half the meal; the half without the pasta, bread or rice. But somehow, I always felt like I was only getting half a meal. Like I was on a d–t (a bad word in my house). Recently, I've started experimenting with ways to make my meals feel more complete, substituting fibrous carbohydrates for the rice and pasta in traditional starch-laden meals.
Below you'll find two recipes, both of which I made yesterday. Each can be served two ways; with and without starchy carbs. One meal that everyone can eat (except for my picky eater…) and feel satisfied upon leaving the table. Enjoy!
(Note that nutritional information is only an approximation and will depend somewhat on the brand of the ingredients you use).
Veggie, Chicken and Cashew Stir Fry on Wilted Greens (or rice if you prefer)
1 Tbsp extra virgin olive oil
1/2 c sliced onion
1 c sliced mushrooms
1 c julienned peppers
1 c julienned zucchini, skin on
1 Tbsp grated fresh ginger
2 cloves of garlic, crushed
6 oz diced, cooked chicken breast
1 Tbsp low sodium soy sauce
2 c raw spinach leaves
1/4 c chopped cashews
Heat oil in large saute pan over medium heat. Add onions, mushrooms, peppers and zucchini. Cook, stirring frequently, until vegetables are almost cooked.
Add ginger, garlic and soy sauce. Cook 2 min.
Add chicken. Cook until warmed through.
Place 1 cup of spinach leaves on each of two plates. Top each with half of the chicken and veggie mixture.
Sprinkle with cashews.
Serves 2. Nutrients per serving: Calories, 344; Carbohydrates,  18.6 g; Total Fat, 14.4 g; Sat. Fat, 2.7 g; Protein, 36.8 g; Dietary Fiber, 4.1 g; Sugars, 7.7 g.
Adding 1/2 cup cooked brown rice to the meal will add 108 calories and 22.4 g of carbohydrates.
Spinach and Beef Tomato Sauce on Spaghetti Squash (or in pasta shells if you prefer)
1 Tbsp extra virgin olive oil
1 lb lean ground sirloin (or turkey, if you prefer)
2 cloves garlic, crushed
1/2 cup finely chopped onion
1-10 oz pkg frozen spinach (you could easily use fresh; I ate all of mine with lunch, see above)
1 jar clean eating tomato sauce (no added sugar, salt or preservatives)
1 small spaghetti squash, roasted and shredded with a fork to resemble spaghetti (see video below for how to's)
Heat oil in a large frying pan over medium heat.
Add onions and ground beef. Stirring frequently until meat is cooked through.
Add garlic, frozen spinach and tomato sauce. Continue heating until spinach is thawed and sauce is bubbly.
Place 3/4 c shredded spaghetti squash on each plate, top with 1/4 of the spinach and beef tomato sauce.
Season with grated parmesan cheese, if desired.
Serves 4. Nutrients per serving: Calories, 398; Carbohydrates,  34.6 g; Total Fat, 14.4 g; Sat. Fat, 4.1 g; Protein, 32.2 g; Dietary Fiber, 13.9 g; Sugars, 16.3 g.

Adding 1/2 cup cooked, whole wheat pasta to the meal will add 103 calories and 20.7 g of carbohydrates.