Well, summer holidays are officially half over. Some of you will be saddened by that comment. Others will be jumping for joy. Kind of depends whether your kids are easily entertained and self-motivated or whether they bore quickly, as mine do.
Although I do love summer (now that the good weather has finally arrived), I long for the schedules and routines that the start of the school year brings. I find it oh so difficult to stick to healthy meal plans and exercise regimes when life is full of holidays, spontaneous outings and entertaining.
Given that there are only five weeks left until my children are back at school, I've been thinking about how I'll get through them with figure and fitness intact.
Teaching classes is not enough for me; like any activity that you do regularly, progression and variety are what lead to physical change. Although I try and mix it up, I just can't lift as heavy in class as I do in the weight room, and for me, that's what makes the difference.
While many of you thrive on home workouts (you did see my at-home-with-the-kids workout video, right?), I find it extremely difficult to 'bring my work home'. I prefer to drive to the gym, get it done there and use my backyard and playroom for relaxation.
Knowing what doesn't work for you personally is half the battle. The other half is making the time to do what you must. And this summer, I haven't always done that.
While I usually caution my clients (particularly those with school-age children) not to expect great progress towards their goals during the summer, I do suggest a minimum level of commitment to nutrition and exercise so as not to lose any ground. Just maintain the status quo.
With that in mind, here's what I'm planning to do in the weeks leading up to September;
1) Be more mindful of my water intake; when I'm not in the gym, I tend to forget to drink. One big glass before and with each meal gets me towards my daily goal. Having a pot of ice cold green tea to sip from helps too. (I'm loving Tetley's Blueberry Green these days.)
2) Get to the gym for two weight room sessions per week. Get up and go before hubby needs to start his work day.
3) Sub as many spin classes as I can! Spinning is the best form of cardio for me and the time flies much more quickly when I'm the teacher (as opposed to a participant in another teacher's class; wonder why that is?).
4) Enjoy a few more days of relaxation and knitting in the garden. Rest is just as important as strength training for muscle growth. Plus, the sunny weather won't be here forever (and probably only for another week or two in the Pacific Northwest…).
5) Create an inspiration board to help me keep moving towards my health and fitness goals. I've started one on Pinterest; you can find me there as 'fitknitchick'.
Don't forget, it's Fitness Blog Hop Friday again; click on the button below and hop along to some other great fitness blogs!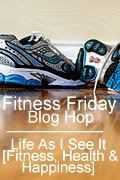 Are you still on track with your summer health and fitness goals?
How frequently do you review and update your goals?